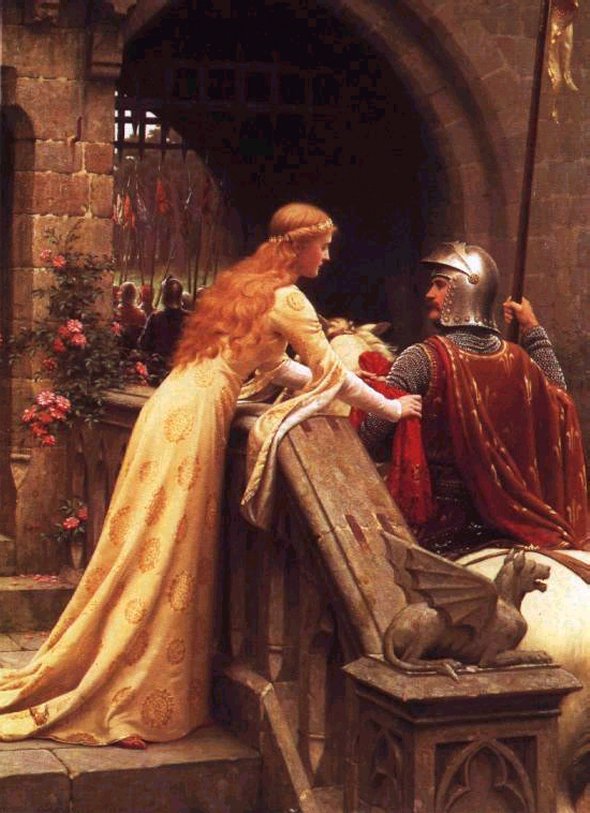 'God Speed!' (1900) by Edmund Blair Leighton; Private Collection
Today I can do a post on British painter,
Edmund Blair Leighton
, born on 21 September 1852 and died on
1 September
1922. I don't think that he was officially a Pre-Raphaelite painter but he was associated with the Brotherhood and his paintings are also medieval and Arthurian in theme. Today's painting looks definitely Pre-Raphaelite in style and colour to me. I wasn't familiar with this painter or his work and his name is not commonly known but apparently his paintings 'God Speed!' and
The Accolade
are amongst the most widely recognised paintings of the period. I absolutely love both this painting and 'The Accolade'. 'God Speed!' is a depiction of a romantic scene between the beautiful maiden and her knight in shining armour. We feel the immediate danger and even hope for his safe return. Leighton also specialised in Regency paintings, like
this one
and
this one
. They are lovely but maybe a bit too sentimental and sweet. I do like his Pre-Raphaelite paintings much better with the Arthurian theme and vivid colours. To see more, click
here
and
here
and
here
.